the Plymouth Baby Alpaca Grande
I bought to make a scarf for a friend for Christmas.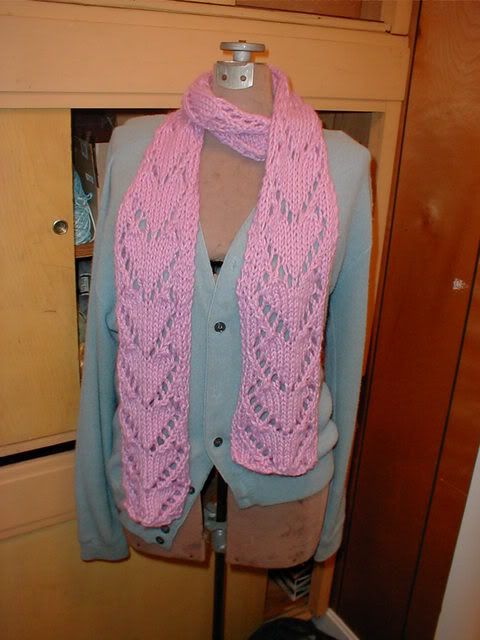 I used a little more than one hank of yarn and US11 needles. This scarf curls like a mother, since the design is set in stockinette, with only a two stitch border on either side. It will lay a little more flat after blocking, however, as evidenced by the picture. I might have enough yarn left over a matching hat. I love this yarn. It's a larger gauge than I usually like, but is so soft. The scarf was a quick knit; I finished most of one half of it the other night, and I finished the first and the second half last night in the same time it took me to watch Brewster's Millions. I grafted the two sides together today. The only change I had to make to the pattern to accomodate for my different gauge was to add a couple more repeats. It's only about an inch less wide.

Next up: I'm going to start a shawl for my aunt for Christmas. It's another bulky wonder. Should go fast. I'm trying to decide what I want to make next for a sweater. I have a few ideas on deck. I keep drifting back to this sweater I saw in
Knitter's
awhile ago, it had sleeves that got wider and wider and essentially made up the front and half of the back. It was made using Noro
Kureyon
, and I actually already bought the yarn for it.
The minute I saw the hearts pattern in the Knitty surpise, I knew it would the perfect project to use with
Current Mood:

sickly, but happy

Current Music:

stupid noisy neighbors